Mickey Haller is a fictional character created by Michael Connelly.  He's a lawyer.  His legal name is Michael J. Haller, Jr.
THE FIFTH WITNESS Mass Market Paperback Out Now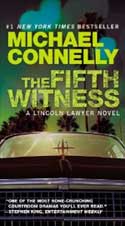 The mass market paperback of The Fifth Witness has just been released in the US and Canada.
Mickey Haller has fallen on tough times. He expands his business into foreclosure defense, only to see one of his clients accused of killing the banker she blames for trying to take her home. This #1 New York Times bestselling novel was originally released in hardcover in 2011.
Click here to read more about THE FIFTH WITNESS.